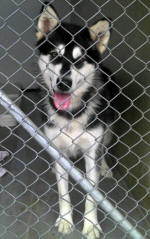 Malamute Rehoming & Adoption
The Alaskan Malamute Club, Victoria (AMCV) receives many calls from people who can no longer keep their Alaskan Malamute for one reason or another.
Please note that dogs listed with on this website are in no way assessed by us, we are simply assisting in getting those wanting to adopt a Malamute in touch with people or organisations who have Malamutes needing new homes.
The AMCV is in no way endorsing or recommending these Malamutes as being suitable for you - this is for you to determine. If you would like further information about adopting a Malamute please contact the relevant organisation.
Adopting a Malamute:
Before deciding to adopt a Malamute we ask that you read the information about the breed and adopting a Malamute article so that you are fully aware of the nature and temperament of the Alaskan Malamute breed and know what to expect.
You are welcome at any time to contact the club for advice and become involved in club activities with your new Malamute.
Rehoming a Malamute:
The AMCV is not directly involved in the rehoming of Alaskan Malamutes, however we do support organisations involved in Malamute rescue and rehoming.
If you have a Malamute that you have no choice but to rehome, we advise that you take the following steps to find a new home for your dog:
NB: We do NOT recommend advertising you dog in newspapers or on general "for sale" websites, or as "free to good home".
If you cannot find a GOOD home for your Alaskan Malamute and have exhausted all possible avenues to do so, contact an animal shelter - this should only be done as a last resort as animal shelters by law can only keep dogs for a limited time before being required to euthanase them. Also be aware that many animal shelters perform temperament tests and, while Malamutes are generally very good with all people, they may fail the test with other dogs.
For dogs that are very old where no other options are available, it may be kinder and least traumatic to put the dog to sleep rather than sending him to an animal shelter. Please consider carefully and do what you feel is kindest and in the best interests of your Malamute.
The AMCV will not knowingly:
be involved in referral of Malamutes being sold for profit.
be involved in finding temporary homes for Malamutes.
assist in the rehousing of dogs which have shown aggression towards people.
assist in the adoption any dog for the purpose of breeding.
It is emphasised that the dogs listed via the AMCV are in no way assessed or recommended by the AMCV.
If you would like further information about adopting a Malamute please contact the Malamute rescue organisation in your State:
Thank you for your interest in helping a Malamute in need of a new home.